In my last handful of articles I have written of my adventures seeking Gemischter Satz along the sun-dappled paths that crisscross the Vienna Woods and exploring the centuries-old subterranean cellars under the Gruner-loving Weinviertel region. In this edition I would like to bring you home; all the way home, to my favourite room in the house, my kitchen.
About 15 years ago I decided it was time to leave my 'working for the weekend' attitude behind; to grow up and do that most adult of things, pick a career. I found myself at a crossroads with a difficult decision to make; I had two passions that could each, if pursued with diligence and discipline, provide not just a living but also the job satisfaction to keep my attention for the long term. Should I head off to culinary school or could the wine game offer me more?
The learning curve is brutally steep and there are call centres and supermarkets brimming with the ghosts of chefs and wine lovers who for one reason or another fell short. Neither industry takes any prisoners or pays well in the early days, but this was before I had a wife, any kids or a house, so I had the luxury of eating poorly and rarely sleeping whilst working my way up in a new trade.
I am writing to you as a man completely content with the hat I wear and do not for one second ever think I made the wrong call, but even fifteen years later I still hear the kitchen calling to me. I take an inordinate amount of pleasure in planning and preparing a meal for friends and family and have long felt that to create something from scratch specifically designed to not just sustain but also delight, is a gift universally appreciated.
It is in this spirt that I would like to share with you three recipes that, when paired with three Hahndorf Hill wines, are guaranteed to titillate your significant other, brighten a boring Sunday lunch or have the neighbours' heads poking over the fence silently longing for a seat at your table.
The recently released 2019 Hahndorf Hill White Mischief is the eighth vintage of our New World-style Gruner Veltliner and is beautifully bombastic and boisterous but impeccably balanced. Rarely is so complex a wine this approachable and inclusive; there are stratas of fruit and texture for the more cerebral pleasure seekers but it has still maintained its friendly and unselfconscious nature that is so endearing to those who aren't into over thinking what makes them happy.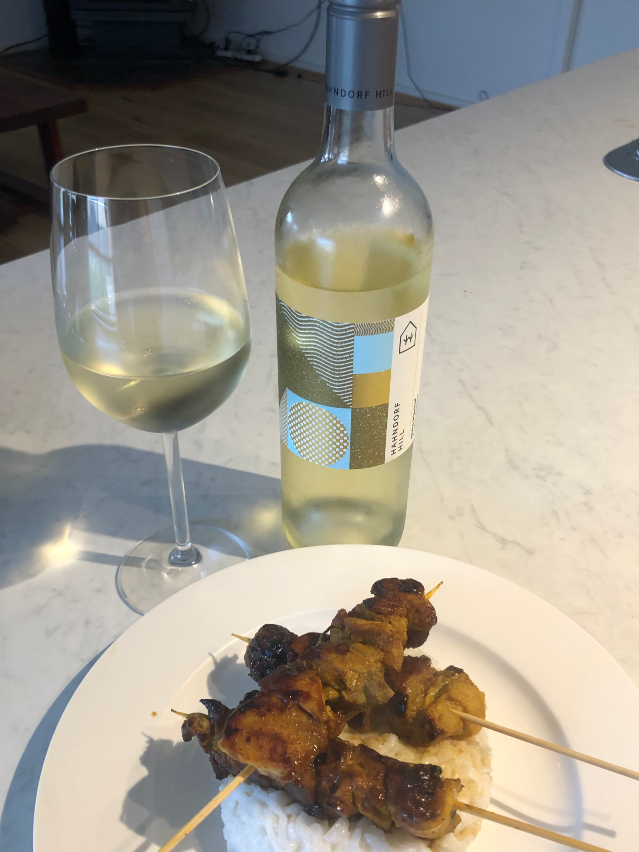 The aromatics of the 2019 White Mischief put me in mind of the tropical South Pacific; grapefruit, passionfruit and nectarine hula over the rim and perfectly complement a palate throbbing with pear, citrus, white pepper spice and the signature rub of texture so critical to Gruners of quality. It is this dance between fruit, texture and spice that makes this wine a delicious pairing with my Chargrilled Chicken Paprika and Five Spice Skewers. This is a variation of a recipe by long-time friend of Hahndorf Hill and my favourite Vietnamese/ Australian chef, Luke Nguyen.
Chargrilled Paprika and Five Spice Chicken Skewers
3 tsp minced garlic
1 finely diced onion
1 finely sliced and de-seeded green chilli
2 kaffir lime leaves
1.5 tsp five spice (Taiwanese is preferable)
1.5 tsp hot paprika
.5 tsp turmeric
2 tsp brown sugar
1 Tbs light soy sauce
2 Tbs coconut milk
500gm skinless and boneless chicken thighs cut into bite-sized chunks
In a large bowl mix all ingredients except chicken until well combined. Add chicken and stir to coat all the chunks, cover with cling film and marinate in the fridge for at least 2 hours (ideally overnight).
Soak bamboo skewers for 30 minutes then thread chicken onto skewers, cook on a hot BBQ or grill for about five minutes per side or until browned and serve with coconut jasmine rice. Makes approximately 12 skewers.
An early mentor of mine once said: "Making wine is much like flying a jumbo jet; a delicious wine and a comfortable flight are the product of a series of minor shifts and adjustments." The 2019 vintage of Hahndorf Hill's classic-style Gru Gruner Veltliner epitomises that philosophy. Our tenth vintage in this classic style has evolved from its 2010 ancestor but not radically so; the genes of pear, golden delicious apple and white pepper spice are still proud but their landscape has broadened and is infinitely nuanced.
Pear, stone-fruit and citrus greet the nose and promise the palate a treat but what arrives is the grown-up version of expecting socks for Christmas but unwrapping a new bike! Pears and apples of every shade tumble across the palate carrying with them savoury notes of slate, white pepper and a waif-like breeze of anise. What separates this wine from its closest competition on the table – Riesling – is its texture.
Three individual picking runs – all of which were vinified separately – have endowed this wine with a depth of flavour and acid line of such elegance that they pas de deux through my cookbooks like Prince Seigfried and Odette on the moonlit shores of Tchaikovsky's lake of tears. And it is this dance between complex acid and gentle white spice that makes the 2019 Gru Gruner Veltliner a spellbinding partner to sirloin steak with my signature roast potatoes and grilled broccolini.
Sirloin Steak with Roast Potatoes and Grilled Broccolini
Gently parboil quartered potatoes until a fork can slide in and out cleanly, drain and toss in the colander until all sides are scuffed up. Spread out on roasting tray to cool completely, then refrigerate uncovered overnight.
The top-secret process to making my signature 'crunchy on the outside and fluffy on the inside' roast potatoes is as follows:
All the ingredients for this dish are in the title except for arguably the most important, duck fat!
Preheat fan-forced oven to 220 degrees Celsius then add two tablespoons of duck fat to a roasting tray and put in the oven until the fat starts to shimmer and pop, carefully add the parboiled potatoes (tipping in away from you) and roast for 25 minutes.
Remove the pan from the oven and turn potatoes over; with a masher gently crack them open and sprinkle on sea-salt flakes, finely chopped rosemary and a drizzle of olive oil.
Return potatoes to the oven and roast for a further 25 minutes or until especially golden.
Serve steak rare (and well rested) alongside blanched then grilled broccolini and roasted potatoes. For an extra special treat, whip a clove of finely chopped garlic and a sprig parsley into a tablespoon of butter and place atop the steak immediately before serving.
Like its predecessors, the 2017 vintage of the Hahndorf Hill Reserve Gruner Veltliner has taken inspiration from the grand Smaragd and Reserve style Gruners of Austria's prestigious Wachau and Kamptal wine regions. We at Hahndorf Hill have long been fans of their richness, power and depth of flavour; these wines stand out in the mature and textured white bracket because of their unique ability to balance two often mutually exclusive characteristics, gravitas and elegance.
The 2017 Reserve' is a case study in the whole being greater than the sum of its parts; slightly extended ripening, 100% wild fermentation and a period of peaceful slumber in old French oak all contribute to what we feel might be one of the most complete wines we have ever made. The reserve block is the first on the estate to greet the morning sun and basks in her warming gaze most of the day; combined with the gentle influence of resting on its lees, this wine is now in its 'happy place'.
Aromatics of ripe orange peel, peach and vanillin lazily flow over the rim like dry ice vapours from a wizard's cauldron; the palate is full and generous but still lively and agile with citrus, pineapple, custard apple and creamy white stone-fruit.
It is this creamy yet clean and earthy yet ephemeral nature that makes the 2017 Hahndorf Reserve Gruner Veltliner a delight to drink with my Crackly Pork Belly with Parsnip Puree. My method for achieving the perfect crackling is extra top secret and really must go no further; I am trusting you!
Jack's Signature Crispy Crackly Pork Belly with Parsnip Puree
Scrape the back of your largest kitchen knife across the pork belly to remove the top layer of skin then score the skin to a depth two-thirds the way down to the meat.
Brush over a thin coating of apple cider vinegar and rub in a generous amount of sea salt into the scores and the surface of the belly, cover and refrigerate overnight.
Remove pork belly from oven and let it warm up to room temperature. Always try to avoid cooking meat straight from the fridge; the temperature range becomes much greater and it can often cause the meat to be overcooked on the outside and still under on the inside.
Set a shelf about two-thirds the way to the top and pre-heat your fan-forced oven as high as it will go (or up to 250 degrees).
Put the pork belly into the very hot oven and cook for 25-30 minutes or until the surface of the skin has bubbled up and gone a deep golden colour. It is nearly impossible to get the surface crunchier at the end of the process so be brave and resist the temptation to move the pork until it has crackled up.
When the surface of the pork belly is uniformly 'crackled', turn the oven down to 160 degrees Celsius and cook for another 20-25 minutes.
In a large pot of vigorously boiling salted water add peeled parsnips and boil until soft, drain and add a knob of unsalted butter, 1.5 teaspoons of minced garlic and 1.5 teaspoons of onion powder.
Blitz with a stick blender or in a food processor until you have a smooth and creamy puree.
Remove pork belly from oven and allow to cool slightly before cutting along the score lines and serving atop the parsnip puree.
It is at this stage I strongly recommend locking all your doors and closing the curtains; it is not uncommon for all of my neighbours to suddenly have urgent and pressing matters that must be discussed at my dining table. You have been warned!
For years now at Hahndorf Hill we have preached Gruner Veltliner's supremacy at the dining table; few if any varieties have the culinary range of this jewel of the Adelaide Hills and the dishes we have run through today are but the tip of the iceberg. A well paired food and wine will lift every dining experience and therein lies the fun; explore, experiment, challenge yourself and remember, when it comes to food, we have a Gruner for that.
To order Hahndorf Hill wines, simply head to our secure online shop: