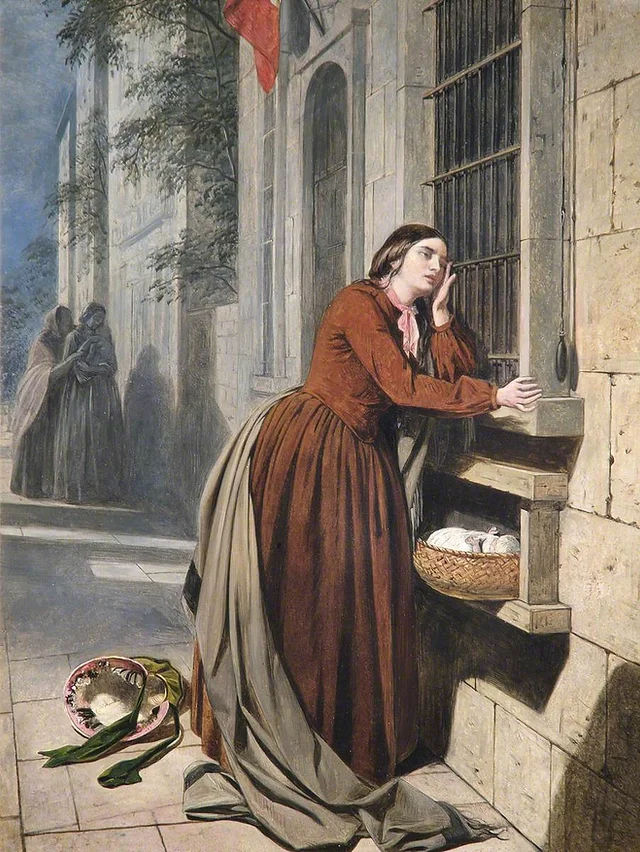 Some of my favourite myths and folk tales open upon a scene of a mysterious hooded figure straining against whipping wind and lashing rain as they struggle up a dark path towards a large and brooding castle or monastery. Giant forks of lightning tear up the sky and give this huddled figure its only reliable glimpse of the steep and slippery path. They reach the peak and pause for breath in the lee of two giant oak doors, as the thunder roars straight through all those unfortunate enough to be out in such a hellish night.
The figure straightens and draws a deep fortifying breath; out of the wind and rain we can for the first time take in the details of what we can now clearly see is a woman and while soaked and shivering, a woman of obvious elegance and grace. From beneath the folds of her once courtly overcoat she draws forth a bundle which, in the poor and intermittent light, seems to move. The lady clutches the bundle to her breast, lays one final tender kiss upon its forehead and, with all the care in the world, kneels to gently rest it upon the stone step before the immense doors. She balls her fists and pounds on the doors, before dashing back down the path into the night.
Whilst heavily romanticised, this tale is not a million miles away from how we like to imagine the premium red grape varietal Saint Laurent arriving in Austria, and in particular arriving at the Klosterneuburg Monastery – the cradle of Austrian viticulture and the world's first viticultural school. The monastery would go on to specialise in St Laurent, becoming the custodian of the largest St Laurent vineyard in the world.
And the real story? It is thought that St Laurent was originally grown in Alsace but it was almost completely wiped out during the great Phylloxera outbreak in Europe in the mid to late 19th century. Somehow, some cuttings of this unusual grape survived and found their way from France via Germany to Austria, where they did indeed land on the stone step of the monastery and were 'adopted' by the vigneron monks of Klosterneuburg.
In the subsequent years, as the monks at Klosterneuburg worked with St Laurent, speculation must have mounted regarding its heritage, as the leaves and bunches bore an uncanny resemblance to Pinot Noir, and the wines produced were stylistically familiar to a regal Burgundian. However, it is only within recent years that Saint Laurent has officially been anointed via genetic research as the daughter of Pinot Noir.
This genetic analysis, led by Dr. Ferdinand Regner of Klosterneuburg viticultural school, concluded that the birth of Saint Laurent is either as a result of a natural hybridisation between Pinot Noir and an as yet unidentified second parent (the mother being Pinot Noir and the father unknown), OR St Laurent is in fact a direct seedling of Pinot Noir. So, did the noble Pinot Noir have an illicit liaison with an as yet unidentified lover? I, for one, fervently hope the answer is yes, because what a delicious story!
St Laurent's uncertain parentage aside, it has now been fully embraced and provided with a new home at Hahndorf Hill vineyard in the Adelaide Hills, alongside several of its fellow compatriots such as Gruner Veltliner, Blaufrankisch and Zweigelt. Our St Laurent cuttings were brought over from Austria in 2014 before spending the mandatory two years in quarantine. Once released into our care, the painstaking process of propagating them into the vineyard began, and we eventually harvested our first vintage in 2020. The wine was bottled in 2021 and Australia's first St Laurent slumbered in our cellar until late 2022, when we released it to our Loyalty Program customers.
The mystery and intrigue surrounding this grape variety may have caught our initial attention, but it is the wine she is capable of making that has kept us enthralled ever since. In Austria, St Laurent is enjoyed on a spectrum: some regions release wines that lovers of Syrah or Côtes du Rhône will swoon over, whilst others produce wines with the elegance and subtlety that will force Burgundian devotees to bend the knee. At Hahndorf Hill, we feel our St Laurent will reach its full potential if we allow her to openly embrace her birthright and reflect the more pinot-esque elements of her nature.
Premium examples of St Laurent made in this style are intensely aromatic but never overpoweringly so; deep black and cardinal bramble berries are reliably accompanied by woody spice such as anise and cardamom. The truly elite wines draw from their skins, stalks and subtle oak a governing tannin structure that is refined and on point. That being said, it is not uncommon for the 'unscheduled' offspring of the aristocracy to have something of a wild or bohemian side. St Laurent has inherited a spice and zing that she did not get from her noble mother and once again, I delight in the mystery of her unknown pedigree.
For our 2020 St Laurent vintage, we drew upon all the experience gained from our other Austrian reds as well as wines we enjoyed from regions such as Thermenregion, Kamptal, Burgenland, Burgundy and even the Rhone Valley. All of these regions had an influence not just on us but most importantly, on the wine we made. We worked to provide the wine with everything it needed to bring forth all its inherent raspberry and blackberry primary fruits, its signature savoury spices, and the tannin/acid balance that has propelled the variety to its rightful place on wine lists.
The first impression on the nose is of berries born to the types of bushes that fight back, the twisting brambles that will only yield their precious fruit to the brave who chance its thorns. Aromas of black and the deepest ruby garnet berries greet the senses and whisper of the pleasures yet to come. Anise, cardamom and a subtle pepper are the first spices represented and they are complemented by savoury elements such fine leather, cigar box and something else I can't quite put my finger on … could it be… a hint of sous bois?
I am very much looking forward to enjoying this wine with game meats, especially duck, and I think it will break hearts with roast leg of lamb. Salmon baked in a black pepper crust would make for a great pairing too, but I think my favourite way to enjoy this wine will be with the door locked, the phone off and a big wedge of a fine blue cheese.
At our core, we at Hahndorf Hill are romantics and suckers for a good story. The dramatized scene I set at the beginning of this article naturally never happened, but in times like these could we not suspend belief for a minute and lean into the fantasy? A vulnerable infant, abandoned on the steps of a monastery where she is taken in, loved and supported. I expect that years later, once word got out of the beautiful young lady cloistered behind the monastery walls, there were no end of noble suiters, but this foundling had grown strong and independent, and she didn't need them to conquer the world. She could and would do it all on her own.
It was in this spirit that we named our St Laurent, 'The Foundling'. A recognition of her humble beginnings and a hint towards our hopes for her great future.
Prost, Jack