Hahndorf Hill Winery
  Adelaide Hills
As vineyards across the region slowly awaken and stretch up into the warm lengthening days, so too do we, and the hearty recipes that got us through the cold dark months are rotated away and the BBQ makes a triumphant return.
This time of year my friends and I need very little provocation to dine outside; the lads almost involuntarily gravitate towards the grill and the ladies once again discreetly wage their annual "who brought the most interesting salad" war. Just for the record my wife's salmon and spring onion cob was the clear 2017 champion … just saying.
As the seasons must change so too do the wines we reach for. The demographic in ice buckets across the country has slowly but surely shifted. Gone are the ubiquitous Kiwi sauv blancs in favour of a dry and savoury newcomer with a distinctive pale-pinkish hue.
Although exact numbers are hard to pin down, one thing is undisputed: Rosé is the fastest growing category in Australian wine and it is not slowing down. What was once relegated to the bottle shop's back shelf or the last fridge, often in the sweet section, now takes pride of place. Although there is still a big market for the sweeter styles, it is the drier "Provence" inspired wines that are responsible for rose's almost exponential growth.
Last Saturday I woke to see my balcony bathed in sunshine and being the patriot I am, I invited some friends over and woke up my BBQ. I rarely have trouble attracting guests to dine with us as they know I will often have a flight of wines that need tasting for this very blog and this day was no exception. I am not a recent convert to rosé but I will confess an ignorance of eastern European examples (a blind spot I am not proud of and to be addressed).
The three I chilled for the group were all made to a similar style but all told a very different tale. I chose a German blend, a famous Austrian, and a bottle of our own current vintage.
For generations the vineyards owned by Andi Knauss' ancestors were strictly a hobby but after graduating as a vigneron and a stint in Austria, Andi came home in 2004 and turned Weingut Knauss into a serious concern.
With a focus on vineyard health and minimal intervention in the winery, Andi has become a rising star in one of Germany's premier wine producing regions, Wurttemberg-Remstal. He has slowly expanded the plantings and now works with nine different varieties. Andi has an eye for the details and it shows; minimal intervention is making wines on the razor's edge, requiring precision and care. By managing the vineyards with patience and in harmony with nature, he has given himself the best chance.
As soon as I poured the Knauss 2016 I knew it would be popular; rose petals and quince leapt from the glass. The palate was sophisticated and refined; pomegranate and white blossoms up front with pink lady apple bringing up the rear. A delicate powdery tannin had everyone salivating and I fear that had I not been sitting right there this would have been the first empty bottle.
A blend of Pinot Noir, Zweigelt, Trollinger, Blaufrankisch, and Merlot, the Knauss Rosé is one to share; a treat with grilled lamb, sautéed mushrooms, crumbly blue cheeses and white fish.
The village of Gols on the shores of Lake Neusiedl in Burgenland, Austria, is one of the prettiest places I have visited. The lake is immense but quite shallow, contributing to this region's unique micro-climate. Peppered around the lake are several of Burgenland's superstars, but I have a special affinity for the wines of – and the people behind – Weingut Pittnauer.
During my recent trip to Austria, as I walked from the train station dragging my suitcase up the cobbled streets to Weingut Pittnauer, I was struck by the relaxed nature of the place. Up until this point I had found Austria quite formal, but here the people waved and smiled, happy to ask the obvious stranger if he needed any directions.
Gerhard Pittnauer (or ''Pitti" to his friends) inherited the family business as a very young man at an impossibly difficult time for the Austrian wine industry. Twenty plus years later, he and his wife Brigitte have emerged from these dark times as one of the highest profile Austrian producers in the world and in 2014 Gerhard was recognised with Austria's highest winemaking accolade – the Falstaff Winemaker of the year.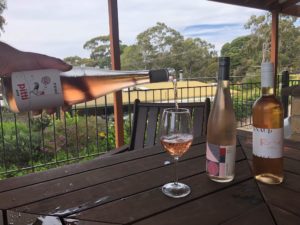 All of Pittnauer's wines are well thought out and expertly crafted; the focus on premium fruit and respectful winemaking is non-negotiable. The 2017 "Pitti" Rosé has done the house proud; 100% whole bunch Blaufrankisch gives this wine an earthy red berry aroma. The palate leads with sour cherry and ripe red berries, but this wine is not without the signature Pittnauer savoury finish.
This example could be a bit of a challenge to the drinker only recently weened off the sweeter rose's, but will delight when served with game hen, gnocchi, sardines or seared tuna.
The 2018 Hahndorf Hill Rosé has been one of our most critically successful ever and its sexy new packaging has seen it flying off the shelves. A few shades lighter than previous vintages but still featuring our unique blend of the Germanic variety Trollinger and other Adelaide Hills reds, this wine is already breaking hearts. Cherry blossom and raspberry frame the nose, while pomegranate, quince and delicate pink musk and pepper form the palate.
This wine is the perfect accompaniment to fiery Thai or whole-grilled fish, a wide selection of cheeses and especially successful with the hot Italian sausages from my local butcher.
The rosé revolution is now past the point of no return. Australia has embraced the dry, savoury and balanced, pale pink seductress and Sauv Blanc is in retreat. This is one bandwagon I will be happy to get on!