I have a confession to make: In my life I have taken as gospel many things I have read or heard with little to no first-hand experience. I believe man went to the moon fifty years ago this month; in my heart of hearts I am convinced that if given a competitive car Daniel Ricciardo could be a Formula One world champion; and I accepted that the Weinviertel region in Lower Austria made only cheap bulk wine but for a handful of maverick producers making wines of quality. On a recent trip to the region I was initiated into the truth beyond that last and what I now know to be utterly erroneous statement and quickly committed my sword (or in this case pen) to help correct this widely held misconception.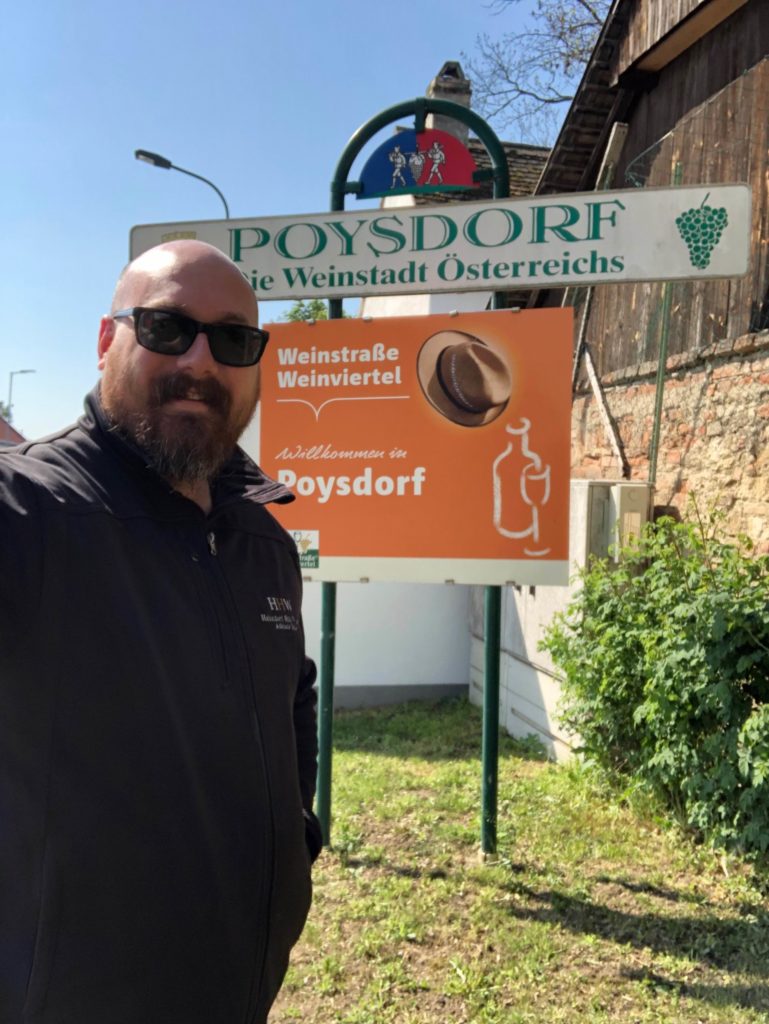 Finding an interesting article or recipe in a well-thumbed waiting-room magazine, discovering a hidden bonus track at the end of your favourite album or flicking over to a genuinely funny comedian on late night TV, can all excite and gift a flare of thrill. You have found a diamond in the rough, an unexpected treat in the most unlikely of places. Now imagine that diamond is not the exception but the rule and you are not toiling away in an underground mine but strolling through Aladdin's Cave, a sparking place stacked with gems. Welcome to the Weinviertel.
I began my journey through the Weinviertel in the centuries-old town of Poysdorf. A Google search suggested a travel time from Vienna of around 50 minutes but as I hired a local Uber driver to whom speed limit signs were more of a suggestion than a restriction, I arrived at my hotel about twenty minutes earlier than predicted. After changing into some fresh trousers and confirming my will was in fact up to date, I made my way to the local Vinothek.
The bright and airy Weinmarkt tasting bar at the VinoVersum Wine Museum & Tourism Centre rotates through around three dozen bottles of local wines at any one time. White wines are dominant in this area but a few wines of a more pronounced complexion are also opened to taste. The Weinviertel is Gruner Veltliner country but she has graciously made some room for Welschriesling, Riesling, Muller Thurgau and Zweigelt. The staff were very friendly and knowledgeable with excellent English. Attached to the vinothek is a very good museum detailing the region's rich history with a special focus on its grapegrowing and vinification traditions.
The flight of wines I tried in the Vinothek left me a little confused; I had expected to find tooty-fruity Sauvignon Blanc-like wines with little finesse or structure, but the first bracket of wines were anything but, so I kept tasting, then I tasted some more. Something was afoot here; almost all of the two dozen wines I tasted had been made with care and by people who prize things like balance, texture and spice. It was at this point I took down a handful of addresses of local producers and set off down Poysdorf's sloped and winding laneways in search of answers. Was the selection at the Vinothek really representative of the region? Did we have this place all wrong?
The "Aspergerhaus" is one of the prettiest buildings in the region and has been a functioning winery for centuries; no-one is quite sure exactly when it was built but it is known to pre-date the parish church consecrated in 1640. The Taubenschuss family took up residence in the 1850s but was already well established in the wine industry, being first mentioned in 1670. A modern winery and cellar was built under the rear wing of the house in the 1990s, and the marriage between old and new is seamless.
I met Thomas Taubenschuss when I accidently interrupted a tasting he was presenting to a group of Hungarian restaurateurs in the family's beautiful tasting room. We met in the courtyard of what I now know to be the private residence. Upon realising my mistake I quickly introduced myself and outlined my mission: "As a fellow producer of Gruner Veltliner I have come all the way from Australia to learn for myself the real Weinviertel." Only too aware of the region's reputation for "entry level" or fruit-driven bulk wine, he insisted I stay and join his group for lunch. I apologised for interrupting and tried to arrange a meeting for later in the day, but Thomas refused to let me go. He saw someone as serious about his passion as he was, and he would not let me out of his sight until he was confident I really understood what they were trying to do.
After a delicious lunch in a local restaurant with the Hungarians, Thomas and I strolled back to the house and toured the underground winery and cellars. Here I got to see first-hand the care and attention paid at every step of the process; this cellar produces delicate and pure wines that truly speak of the terroir. A short drive from the winery atop a gently sloping hill is their premier Hermannschachern block; deep loess with a limestone and gravel sediment provide flinty minerality and the region's signature white pepper spice.
Thomas generously guided me through his whole range of whites and I can honestly say I enjoyed every one; this was Gruner Veltliner in her Sunday best – fresh, complex and textural. I must give the 2015 Grosse Reserve MX Alte Reben a special mention; had I been at home with this bottle I would have turned off the lights, locked the door and pretended I wasn't home. If you are lucky enough to have a bottle of your own be sure to only open this around people you like; every drop is to be jealously guarded. The 2015 "MX" is ripe and creamy but so much more; an almost briny minerality expertly balances and freshens the richness … a Reserve style in the truest sense.
I have spoken already of the Taubenschuss generosity but it didn't stop with lunch and a comprehensive tasting; keen to show me more of his favourite local wines, Thomas started to work the phone and we drove to the other side of the village to visit his friend Melanie of Weingut Weinrieder. Thomas offered to stay and taste with me as Melanie doesn't speak much English and I quickly sensed between the two a mutual respect and shared passion for the land both families have loved for generations.
Like Taubenschuss, the Rieder family source their fruit from several of the region's premium blocks – and it shows. The Classic styles of Gruner Veltliner are elegant and sophisticated with fresh spice and acid; the Reserve wines are leaner than the Smaragd style of the Wachau but no less textural and cultured. White pepper, stone fruit, citrus and pear all link to pique turn across the palate. I especially enjoyed the 2013 Hohenleiten Lagenreserve which would pair perfectly with roast pork, charcuterie or fresh fish.
Weinrieder was originally founded on Ice Wine and the 2014 vintage excited me immensely as it reminded me of our own dessert-style Green Angel Gruner Veltliner. Honeyed pears and white pepper are the signature of this surprisingly light wine and at only 180 grams of residual sugar, I was glad to taste a kinship and shared philosophy.
My second day in Poysdorf dawned clear and bright; the golfers on the course next to my hotel were out early and I enjoyed a hearty breakfast in preparation for another big day of tasting.
My first meeting was with Monika Neustifter, fourth generation winemaker of Weingut Neustifter, one of the largest producers in the region. Carved into the hillside, the winery and cellars extend deep underground and are home to barrels of all sizes. It was there that I was let into a little secret; all around the village I had seen pictures and sculptures of a stylised black cat which had over time become an unofficial mascot of the town. Legend has it each winery had a pet cat that would guard what it judged to be the best wine in the cellar by sitting atop the barrel all day long. The locals would then put a black cat on the bottles drawn from that barrel.
Modern vintners noticed the barrels selected were always the dessert styles still going through their long slow ferment and therefore radiating heat; hence the cats had simply found the warmest spot in the cool cellar. The Keller Katze or Cellar Cats were also thought to have supernatural powers. Their refusal to enter the underground cellars warned of an often deadly build-up of "evil air", which we now know to be carbon dioxide.
Weingut Neustifter produces eight distinct Gruner Veltliners ranging from the fruit forward, to the lean and minerally Classics, decadent Reserves and a Natural. The white pepper prized in the Weinviertel is a constant; the Classic styles revelled in their white blossom, musk and tropical fruits, while the Reserves balanced spice with chalky tannins and creamy orchard fare.
The 2018 DAC Klassik with its lifted pear and lychee put me in mind of our White Mischief, perfect for sharing with friends in the sun or to accompany an intimate take-away curry for two. The 2015 Hermannschachern Reserve with its custard apple, crystallised orange peel and almost oriental spice, is a wine to be sipped with roast chicken, buttery Morten Bay bugs or the deepest dark chocolate.
Fourteen years ago Erich Schreiber resigned from his high-flying banking job in Vienna and returned home to take over the family business. His family had been in the wine industry for generations but Erich's passion lay in the pouring, discussing and drinking rather than in the making. In Poysdorf he converted the family home and cellars first recorded in 1609 into the Wino Vinothek & Wein Bar, and never looked back. I emailed Erich before I left Australia to book a table and asked if he could put together a flight or two that would in his experience best represent the Weinviertel region – and he did not let me down.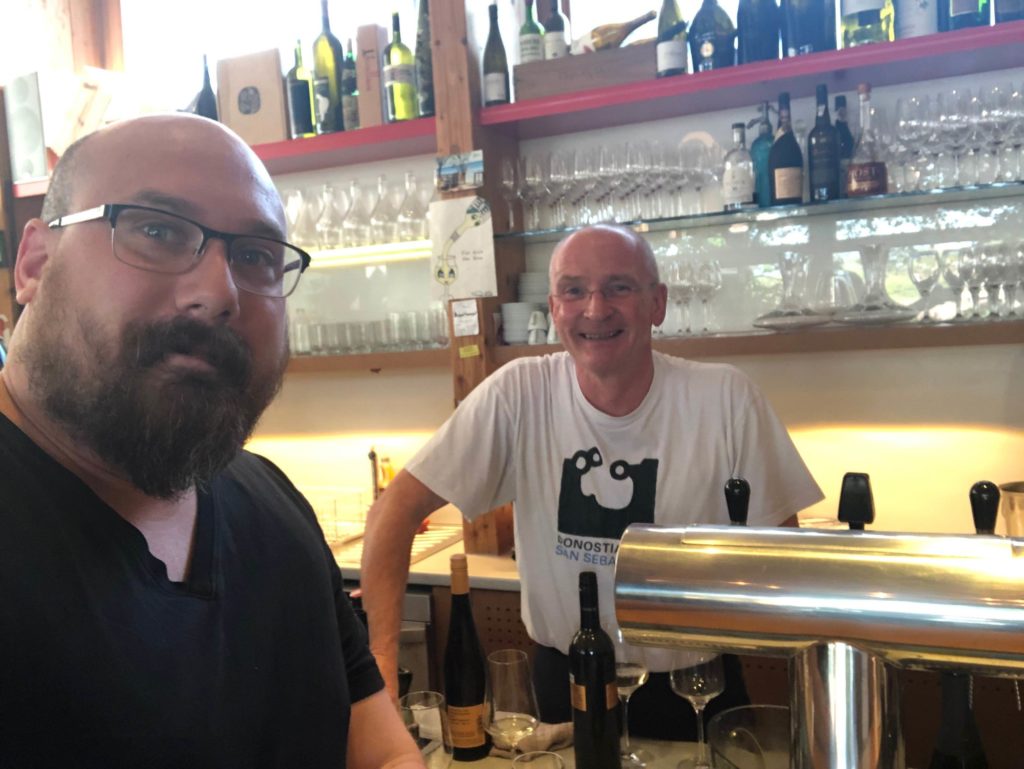 I could listen to Erich for hours; his passion for his region is all consuming and he knows each of his 129 suppliers personally. He knows the back story, philosophy and production methods of every bottle he sells and I can almost see him swell with pride that others are starting to take notice of what, is in his mind, the most under-represented region in Austria.
I tasted through five flights of six wines apiece, each expertly assembled to highlight a theme, style, vintage or sub-region. I tasted Classics, Reserves, a few Natural wines and even a couple of Gemischter Satz wines, a style made famous by the Viennese but also embraced here in the north. The Wino Vinothek & Wein Bar is a warm and welcoming place that puts no value in snobbery. Erich personally welcomes every customer with a handshake or kiss and a lucky few get both! The wine list is carefully considered and I can highly recommend the platters of meats, cheeses and pickles. I very much enjoyed my afternoon/evening at Wino and will definitely call through again in the future.
The Weinviertel is Austria's largest wine producing region but, as much as I enjoyed the wines of Poysdorf, my brief was to really get to grips with the region as a whole. It was time to move on; an hour or so down the road is the town of Retz. First mentioned 900 years ago but officially incorporated in 1278, Retz has deep roots. Through a combination of location, logistics and a series of privileges granted by successive monarchs, Retz has been at the heart of the Eastern European wine trade for centuries.
The town sits on a deep layer of highly compacted quartz sand which once formed the bed of a primordial inland sea. This sand which is very stable but easily excavated is perfect for tunnelling out cellars, and that is what the people of Retz have been doing for centuries. There are over twenty kilometres of passages under the town; a network more extensive than even the road system above and new tunnels are still being discovered and charted.
A guided tour of the cellar network finishes in what was the basement level of a 700 year-old castle but is now home to the Althof Retz Vinothek, which ranges over 200 wines from 80 local producers. The manager of this space is the delightful Doris who, upon hearing my mission, insisted on looking after me herself, and look after me she did. Under Doris' watchful eye I was treated to seven flights she personally curated to best demonstrate the underlying DNA but also the variation in the Weinviertel DAC. Winemaking is all about embracing and highlighting the variables unique to your patch and in a region as large as the Weinviertel, the variations can be profound. But, after following Doris through dozens of vineyards, large and small, high and low, warm and cool, I am now tuned into the underlying bassline of this place.
The wines and winemakers of the Weinviertel have been put down and misrepresented for centuries. Until relatively recently the region was mostly mixed farms with grape vines growing alongside other crops and livestock; a necessity in a poor agrarian region. It was this diversification that kept the locals fed but also caused the more prestige Austrian regions to look down on these so-called "amateurs"; but, as is so often the case, the high took their eye off the low. In that time a passionate and dedicated few inspired the enthusiastic many into a complete rejection of the status quo. Those who once looked down their nose are now looking over their shoulder at a Weinviertel that can more than hold its own at any black-tie dinner.
If this article achieves just one thing, let it be to not believe everything you hear. I accepted the words of others and in not seeking my own answers I very nearly missed out. The Weinviertel hears the gossip and whispered slights but has committed itself to rise above it; to make wines of subtlety, elegance, texture and soul.
Weinguts Taubenschuss, Weinrieder and Neustifter, and the vinotheks Wino and Althof Retz, are representative of a proud Weinviertel that is not only the power-house of the Austrian wine industry but is also its flagbearer for some of Austria's most exciting wines. I have never been so glad to have been so wrong.